As a BESE approved provider of the mentor teacher training series, A+PEL offers a blended learning platform designed to be convenient and affordable for every teacher. Once registered, you will be able to complete the required modules at your own pace. The assessment series required for final certification is not included with the purchase of this course. You will need to purchase your assessment directly through Bloomboard. We will provide links to Bloomboard for your convenience.
Upon completion of all 9 modules of this Mentor Training series, A+PEL will provide proof of completion documentation required for final mentor teacher certification.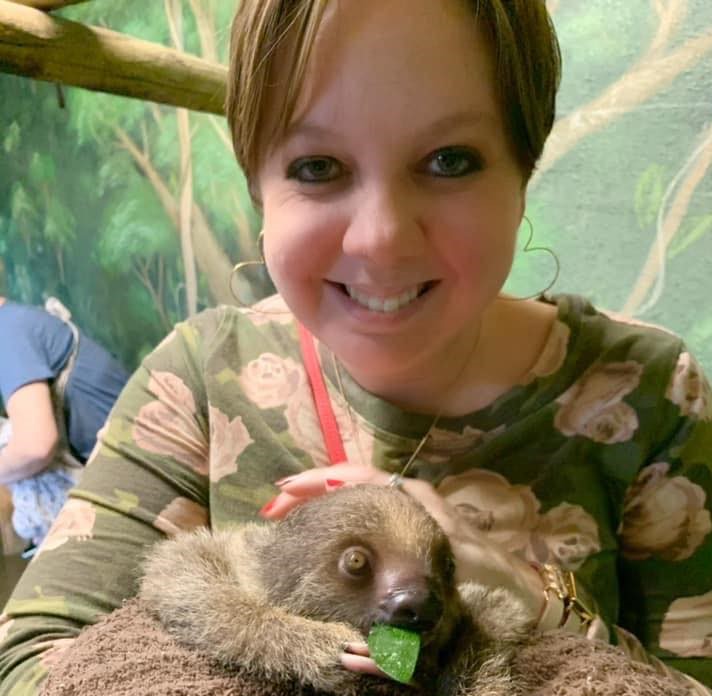 Hi, I'm Miranda and YES, I'm holding a baby sloth!
I live by the motto of "once a teacher, always a teacher." Before starting as A+PEL's Director of Programs​ in 2014, I served 11 years in the classroom. 7 of those years were spent teaching 5th grade ELA and Social Studies while the other 4 years were spent as an Instructional Coach and TAP Master Teacher. I'm now A+PEL's Deputy Director and I oversee special projects that include a yearly summer camp for teachers called Camp A+PEL, an annual Louisiana history conference, teacher improvement initiatives with several area Catholic schools, and University programs that support future teachers. When I'm not wearing my A+PEL hat, I am driving the mom-taxi (my mini-van) for my three children ages 2, 6, and 10. With a spouse who is also in education, our children don't stand a chance to have poor grammar. In all my spare time (yeah, right), I geek out over planning our next Disney vacation, designing jewelry, and taking long walks down the aisles of Target without my kids in tow. 
"It's kind of fun to do the impossible." Walt Disney
Watch this preview video to learn more about becoming a mentor teacher through A+PEL's Virtual Training Series.